About Forest of Jewels
     Forest of Jewels is a family-owned and operated business with an extensive pedigree for designer jewellery in Edmonton, AB, and we pride ourselves on serving our customers with professionalism and integrity throughout their entire experience! We possess a wide selection of jewellery, including unique engagement rings, diamond rings, stunning gemstone earring pieces, as well as watches and much more. Whatever your preferences are, we'll have something that you'll enjoy. Services include in-house custom jewellery manufacturing, watch and jewellery repairs, appraisals, and more.
     Our commitment to service and our professional integrity guide our every decision and action. The result: an experience for our customers that goes above and beyond!
                                                                                         HISTORY
     Our roots go back to 1977 when Fern Forest first opened Forest of Jewels in downtown Edmonton, Alberta. After outgrowing its space, it expanded in 1979, and in 1981, we opened a second store in Heritage Mall. 1984 marked the downtown location's move to larger premises, still on Jasper Avenue, where it operated until 1989. Lawrence Brendel purchased Forest of Jewels in Heritage Mall in 1991. In 2001, the business made another successful move to its current location in the Riverbend District of Southwest Edmonton.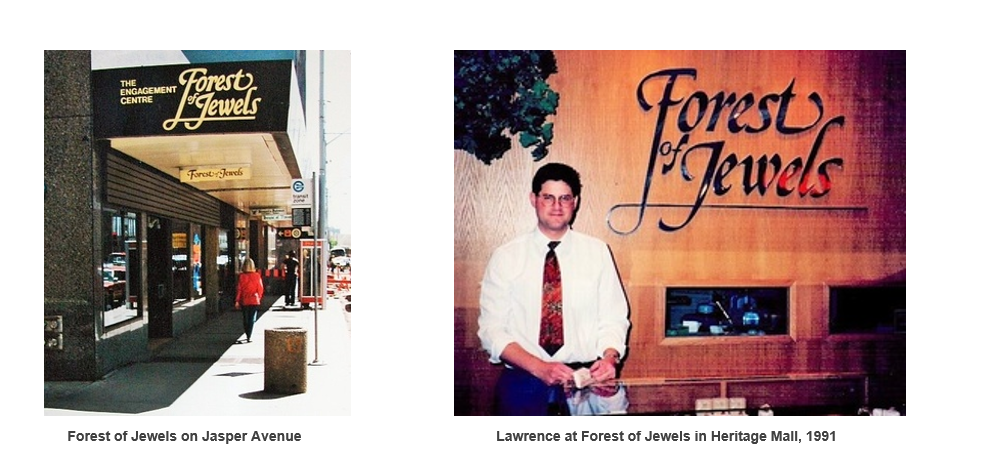 While much has changed since Forest of Jewels first opened its doors in 1977, our commitment to providing the best for our customers has not. As a result, we have been fortunate enough to enjoy an extremely loyal clientele. We don't just sell jewellery, however. Our on-site goldsmiths and gemologist are here to provide you with the highest quality of expertise and service. As well, our dedicated team of sales associates has acquired extensive experience and knowledge, and can assist you in all ways. We pay particular attention to manufacturing details, quality, and value — it's all about the finer points. We service and produce many of our jewellery pieces in-house, while also working with top manufacturers to utilize their specialties and technologies. Together, we will find that special piece of your dreams!